Little Red Barn: veel om over na te denken…
Bij de witte schapen stop ik even. Saar en Suus zijn al heel lang bij opa en oma en ik koester de sjaal van hun wol die me nu warm houdt. Ze kijken me vol vertrouwen aan, deze twee oude dames. Ik laat de rust van dit moment even op me inwerken, mijn gedachten een dikke brij. Na een aai en een paar handen brokjes ga ik verder.
Aangezien de kippen hun eieren leggen in alle hokken en schuren waar ze maar willen, is het een uitgebreide zoektocht voor ik er voldoende heb gevonden. Het is eigenlijk een heel leuk, rustgevend spelletje en ik merk dat ik er van geniet!

Little Red Barn: lots to think about…
I stop a moment. Saar and Suus, the white sheep, have been with grandpa and grandma for a very long time. My scarve is made from their wool and keeps me nice and warm. They look at me with complete faith, these two old ladies. I savor the peace of this moment, my thoughts thick as mud. With a final pet and a few scoops of nibbles I continue with my chore.
Since the chickens lay their eggs wherever they want in any of the stables I got my work cut out for me. It is quit a fun searching game, retrieving enough eggs at unsuspected places. I'm really enjoying myself with this soothing game!
Een warm hart
Het begint nu serieus te sneeuwen, de lucht loodgrijs en stil. Ik laat alle dieren binnen in hun hokken en sluit de deuren. Daarna ga ik zo snel mogelijk met mijn zware trekkar terug naar de Farmhouse.
Als een wandelende sneeuwpop verschijn ik aan de achterdeur, tot grote hilariteit van opa en oma. Opa komt me lachend afkloppen, maar ik laat hem het lachen snel vergaan als ik hem met de koude sneeuw inzeep!
Gillend ga ik ervandoor als hij met sneeuwballen begint te gooien. Ik probeer op een beschutte plek ook sneeuwballen te draaien en gooi ze zo goed mogelijk gericht te gooien. Het is een ware sneeuwballenoorlog en we genieten van ons dwaze spelletje tot we echt te koud zijn.
In de warme en heerlijk geurende keuken geeft oma ons warme handdoeken en chocomelk. Ze glimlacht om onze verhalen en we kletsen tot het donker wordt. Ik word slaperig van de lome hitte in de keuken en misschien is het daardoor dat mijn hart zacht en warm wordt. Ik hou van deze mensen.
En van deze plek.
A warm heart
The snow is seriously falling now, the sky leaden grey and still. I move all the animals into their barns and close the doors. Then I walk as fast as I can homeward with my heavy cart.
I arrive at the backdoor as a walking snowman, to great hilarity of grandpa and grandma. Grandpa keeps on laughing loudly as he pads the snow off of me, but I make him forget to laugh when I scoop up a hand of cold snow and smoosh it in his face!
I scream and run off as he starts throwing snowballs at me. I try to make and throw snowballs from a good hiding spot and a real snowballwar is happening. We enjoy ourselves thoroughly until we get too cold.
In the hot and divine smelling kitchen grandma gives us warm towels and chocolate milk. She smiles at our stories and we chat till dusk sets in. I get sleepy in the lazy heat of the kitchen and maybe it's because of this that my heart starts to feel softer and warmer. I realise I love these people.
And this place.
Wordt vervolgd…
To be continued…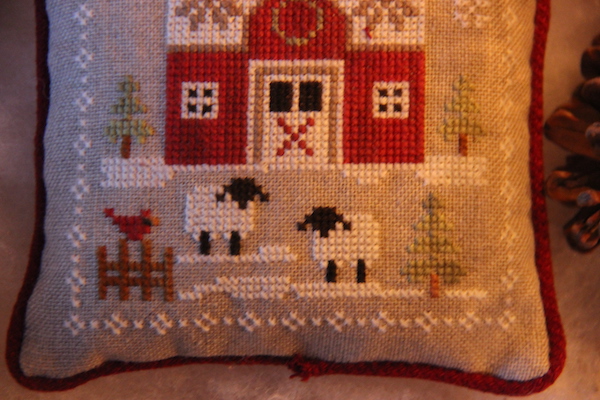 A Farmhouse Christmas Story voorgaande delen:
Het verhaal achter het verhaal
The story behind the story
A Farmhouse Christmas Story heb ik verzonnen rondom de borduurpatronen van Little House Needleworks: Farmhouse Christmas. Deze serie bestaat uit 9 delen en was in 2018 een BOM serie. Ik heb de serie gekocht via Atelier Soed Idee, mocht je hem ook willen bekijken/bestellen!

A Farmhouse Christmas Story is a story I made up involving the crossstitch patterns of Little House Needleworks: Farmhouse Christmas. This serie is build in nine parts and was a BOM in 2018. I purchased mine through Atelier Soed Idee, in case anyone wants to look at it/order it!